At Drain Away Drains, our expert drainage specialists can provide comprehensive drainage CCTV surveys. Our CCTV surveys are the most effective method of establishing the cause of a blockage, or the extent of damage, so we can devise the most appropriate way to proceed and restore your drainage system to full function.
We know at Drain Away Drains that there are a number of different issues that can cause problems with your drains. They can range from the easy to solve problems, such as blockages or scale build-up, to much more serious problems such as a collapsed drain. Whatever problem you face, a CCTV survey from Drain away Drains is the quickest, non-invasive and most cost-effective way to identify the issue, which is why we always make it the starting point for any drain investigation or repair
Home Survey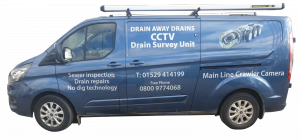 A CCTV drain survey is ideal for home buyers as we can provide a full picture of the condition of the drainage system. Our advanced cameras can find and identify any drainage faults, leaky pipes or joints, blockages and any other issues that could be costly or inconvenient in the future.

We can even provide you with a USB of the drainage survey for insurance purposes. We can then provide you with a quotation to rectify any problems that have become apparent from the survey.
CCTV is most commonly used to assess:
Leaks
Pipes blocked by debris and scale
Damage due to tree root ingress
Pipe displacement / Poor installation

Collapsed drains
Cracked or corroded drains
Wear & tear
Investigation & Survey
CCTV services include:
CCTV Drain Surveys
Drain Inspections
Manhole Inspection
Home Buyer Inspection
We cover the following areas:
 Don't see your area? Just give us a call on 01529 414199 and we will do our best to assist.
Contact us today:
01529 414199
CALLOUTS // EMERGENCIES // CONSULTATION // ADVICE
24HR EMERGENCY RESPONSE:
0800 9774068