Where access to mains drainage is not possible and a septic tank will not meet your requirements, Drain Away Drains can support you with the design, installation and maintenance of a sewage treatment plant to provides you with a long-term solution to many drainage disposal problems
Drain Away Drains can provide sewage treatment plants of all different capacities depending on your buisiness needs, in order to solve your sewage disposal problems when no mains sewer connection is available. We will survey your business location and advise whether a septic tank or a sewage treatment plant would be the most suitable solution.
From our years of experience we know that there are always many factors to consider and we normally find that several different schemes can be considered. As with domestic sewage treatment plants there are many different types of system, including electric and non-electric plants, each with their own advantages.
Drain Away Drains can also provide your business with the correct servicing of your sewage treatment plant, thus ensuring that it always operates at its best, protecting the soak away system or watercourse at the point of discharge. All your servicing will be performed by a trained sewage treatment plant service engineer, according to the manufacturers instructions and current regulations.
It is worth remembering that systems which are not serviced regularly POLLUTE our streams and rivers and lead to prosecution by the Environmental Agency.
Treatment Plant Install – Before & After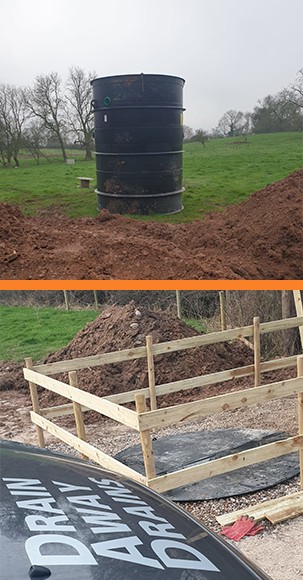 Treatment Plant Servicing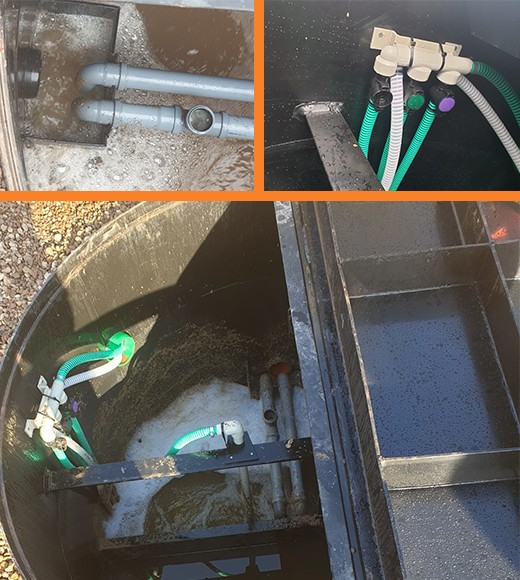 Advantages of a Sewage Treatment Plant
A sewage treatment plant will process your waste water to a much higher standard than a septic tank installation. A sewage treatment plant uses natural biological aerobic action to treat sewage and the effluence is typically clear, and with the approval of the Environmental Agency, it can usually be offloaded into a ditch or other watercourse.
The maintenance of sewage treatment plants is ususally straightforward and requires minimal effort, due to the fact that they usually have few or no moving parts on the inside.
Modern sewage treatment plants now give off very little odour and as they use natural processes to filter contaminants and produce clean, non-polluting effluent, they are considered to be very environmentally-friendly.
Sewage Treatment Plants & the Law
Drain Away Drains will enure that your sewage treatment plants are British Standards approved and comply with Environmental Agency standards and regulations.
Please Note:
Correct service and maintenance records for sewage treatment systems are insisted upon by the environment agency and form a condition on the discharge permit.
We cover the following areas:
 Don't see your area? Just give us a call on 01529 414199 and we will do our best to assist.
Contact us today:
01529 414199
CALLOUTS // EMERGENCIES // CONSULTATION // ADVICE
24HR EMERGENCY RESPONSE:
0800 9774068